Lake Mohave Guide
Lake Mohave on the Arizona/Nevada border is amazing with 240 miles of shoreline, spreading 67 miles from end to end, with Cottonwood Cove Resort & Marina located right in the center. It begins at Davis Dam in Bullhead City, Arizona and is just 14 miles east of historic Searchlight, Nevada, only 45 minutes north of Laughlin and an hour south of Las Vegas.
The exquisite Black Canyon region of the Colorado River, is a region of diverse terrain, varying from sheer cliffs of multicolored rocks to sandy beaches and secluded coves, is a premier location for your favorite outdoor activity. Whether you prefer hiking, rafting, boating or fishing, you will enjoy the warm desert sun year 'round as you explore more than 235 miles of shoreline.
Lake Mohave's 240 miles of shoreline can be enjoyed year 'round as days are almost always sunny. The terrain surrounding the lake varies from sheer cliffs of multicolored rocks to sandy beaches and secluded coves.
Noted for its water sports – swimming, skiing, scuba diving, boating and fishing – Lake Mohave also offers other recreation. Ancient Indian petroglyphs and other historical phenomena lure hikers into the mountains.
The 67 mile long reservoir covers approximately 30,000 surface acres to a maximum depth of 120 feet. There are three marinas with launch ramps, two in Arizona (Willow Beach and Katherine's Landing) and one in Nevada (Cottonwood Cove). There is also a launch ramp at Princess Cove on the Arizona side near Katharine's landing. Camping is available at Cottonwood Cove and Katherine's Landing. Shoreline camping is permitted. Campers should carry out their trash and provide for adequate sanitation.Both narrow and shallow compared to Lake Mead, Lake Mohave lies between the Black Mountains to the east in northwestern Arizona, and the Eldorado and Newberry Mountains to the west in southern Nevada. Most of the lake's length lies within the steep, narrow walls of Black, Eldorado, Painted, and Pyramid canyons.
The northern section of the reservoir is constrained by the steep rock walls of Black Canyon for a length of 22 miles and is narrower than 300 ft in places. This portion of the reservoir is primarily riverine. South of Black Canyon, Lake Mohave gradually widens to nearly 4 miles in Cottonwood Basin.
The transition between river and true reservoir conditions occurs in Eldorado Canyon, between Black Canyon and Cottonwood Basin. In the summer, a sharp convergence zone develops in Eldorado Canyon as the cold, nutrient-rich river water flows under the warmer lake water. Mixing at the interface promotes high phytoplankton productivity resulting in a marked change in water clarity in Eldorado Canyon.
The reservoir has a long north-south fetch and is subject to high winds and resulting large waves from the predominantly south/southwest summer winds and north/northeast winter winds. Small coves are formed in some areas of the basins by inundated desert washes, which are a major source of shoreline alluvial deposits that periodically are washed into the reservoir. Davis Dam is located within a narrow gorge cut into Precambrian igneous rock in Pyramid Canyon at the south end of the reservoir.
At 647-foot elevation, the Lake Mohave has a total storage capacity of 1,818,300 acre-ft, a maximum depth of approximately 100 ft, and just over 28,000 surface acres with roughly half of the lake found in Arizona and half in Nevada.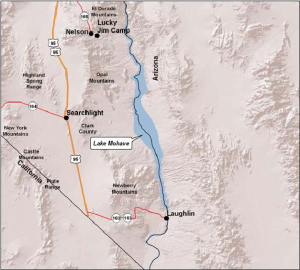 Game fish species include smallmouth bass, striper, largemouth bass, rainbow trout, bluegill sunfish, crappie, and channel catfish. Nongame fish include carp, razorback sucker, bonytail chub, red shiner and threadfin shad.
The best time of the year to fish for striped bass is April through November with the peak in October. For largemouth bass March through June is generally best and for rainbow trout anytime they are stocked (November through March). Generally, the most productive fishing for striped bass is when the light is low or at night. Using cut bait or lures at these times can be very productive as fish move into shallow water to feed. Day fishing requires trolling or still fishing 40 to 100 feet deep with cut bait or with lures that imitate trout or shad. For largemouth bass, plastic worms, live worms and various lures work best during the spawning season. For the trout, prepared bait works best within 3 to 4 days of a plant.

Two state records have come from Lake Mohave; a 63 pound striped bass was caught in 2001 and a 16 lb 4 oz rainbow trout was caught in 1971. Although not state records, Lake Mohave has also produced a 30-pound 8-ounce carp, an 11-pound largemouth bass, a 26-pound 4-ounce channel catfish, a 2-pound 12-ounce black crappie, a 1-pound 1-ounce bluegill sunfish and an 11-pound 6-ounce cutthroat trout.
Bass Fishing Stories

Marina

Video

Lodging
Tracing Nature's Beauty and Cultural Legacy Spanning across the stunning landscapes of Lake...
Read More
Related Images: